Christmas Eve at my Grandparents is the tradition that I look forward to every year. Having my entire family under one roof during the Christmas season is a Christmas blessing that we do not take for granted. With 19 grandchildren, 12 aunt and uncles and my grandparents, it is tough to get everyone on the same schedule, but this one is a cannot miss.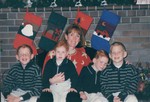 When we were young it was a big toy party! Everyone received fun presents, changed into their Pajamas and trolled around the house looking for someone to show off their new Hot Wheels or Teddy Bear.
Now with most of the grandkids well over the toy phase, the tradition has turned into a great opportunity for everyone to be together.
As my good friend Ferris Buehler once told me… "Life moves pretty fast. If you don't stop and look around once in a while, you could miss it."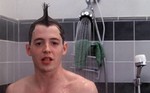 Christmas Eve at my Grandparents is an opportunity for all us be together, to take time out of our hectic lives, stop, pause, and be thankful for all of our blessings. There is truly not better tradition in my eyes then Family during the Holidays.