Build Your Brand Using Social Media
Branding is at the very core of everything you do to build your business.  You're building your BRAND.  No matter how or where you spread the word about your business, your focus should be on creating a targeted brand image that your audience will easily identify.
3,000,000,000 people.  That's how many people around the world use social media every month.   That's an amazing number, that noone could have imagined when GeoCities went online in 1994.  Your target audience for most business owners is just a tiny fraction of those users.  Your problem is selecting the social media platform that works best for you and connects with the audience you need.

The graphic below, from Pew Research puts numbers to how people use the different social media platforms.  It shows that Facebook (68%) and YouTube (73%) dominate, especially with older users.  Younger users embrace a variety of platforms and use them frequently.  Instagram (35%), Pinterest (29%), Snapchat (27%), Linkedin (25%), Twitter (24%), and WhatsApp (22%) are also popular.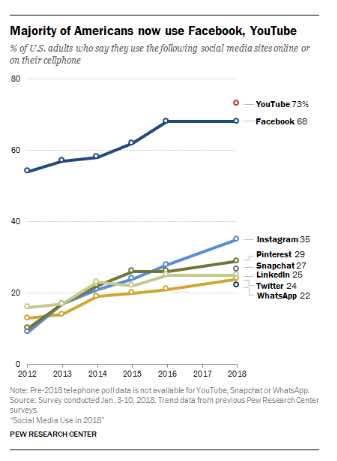 The first thing you need to realize is that it's not always just about the numbers.  It matters who your audience is and what you are trying to accomplish.  If you are involved in B2B sales or services and interested in business networking, Linkedin might be a better fit for you than Instagram, Pinterest, or SnapChat.
There's a lot of competition for user interest on all the social media platforms.  You have to decide which platform will help your brand stand out from all the other companies seeking attention from the audience that you need to attract.  It's a lot like jumping up and down in a crowd and shouting "look at me."  
Your branding strategy is just part of the solution.  That's why your social media strategy should build brand recognition, rather than just advertising your products or services.
Your Brand Needs to Be Familiar and Predictable
Using social media provides you with the opportunity you need to connect with your customers.  By making an emotional connection with your audience, they're more likely to share your content with others and expanding your reach.  Playing on their emotions helps build their loyalty toward your brand.
When your users connect with your brand emotionally, they feel that they are developing a relationship with you.  Become predictable, post at consistent times and with the same voice and personality.  Being consistent applies to your posts across all the platforms you're on.  You shouldn't be humorous on Twitter and serious on Facebook.
Trying to consistently post on varied platforms is difficult.  You need to schedule your social media posts ahead using a robust social media planning tool.  This allows you to easily stay on top of promoting your posts across multiple social media channels.
You Should Market Across Multiple Channels
Think about how you market your brand in real life and online.  Online, using different social media platforms allows you to communicate your message effectively to the diverse audiences found on the different social platforms.
Offline, tell people about your social media presence.  Share specific hashtags in real life and invite users to snap an image and upload it with the hashtag.  Your goal should be to excite your online users about your offline presence, and vice versa.
Using Google's social media analytics helps you determine how effective your social media efforts have been in attracting your audience.
Raise Your Voice Above the Noise
It's not surprising that more than 88 percent of businesses market use social media.  We are all bombarded with ads everywhere we go.  Many respond by just tuning out those ads.  A strong brand voice allows you to highlight your business and grab the attention of overwhelmed users.
Self-promotion hardly ever works.  Imagine what your customers pain points are and how you might solve those.  Using educational, or entertaining videos helps you engage people using your social media.  You need to imagine what you'd want to know if you were the consumer, then deliver the answers on social media and elsewhere.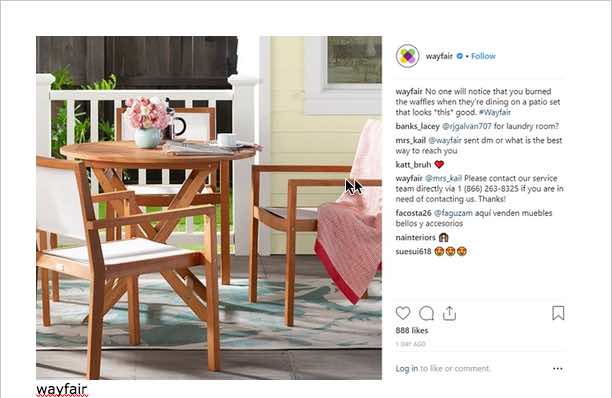 Wayfair highlights their products but makes the posts unique by tapping into the humorous side of life and entertaining guests.  They mention you might burn the waffles, but your guests won't care when they see your beautiful patio set.  
Their image grabs your attention, and Wayfair keeps their branding strategy intact by using the same lighthearted communication they use on Instagram.  
Create Special Offers for Unique Audiences
Marketing on social media provides the unique opportunity for you to create special offers for different and unique audiences that you are trying to reach.  Offering a discount or free trial encourages people to try your brand.  After taking your product or service for a "test drive," they're more likely to become fans than if they never experience your brand at all.
A big part of branding is finding ambassadors who love what you do and want to tell everyone they know. Identifying your "brand fans" is easier than ever.  Thanks to influencers on social media, who often try and share their feelings about products or services it is much easier to spread your message.
In their social media posts, Ipsy uses inspirational sayings and events and offers discounts which appeal to their core audience.  In the example above they use a witty marketing ploy tied into an inspirational meme likely to get shared with others.
Relevant Giveaways Engage Your Audience
Social media platforms are the perfect location for contests and giveaways. However, if you want to attract targeted leads, you must make the prize something relevant to your target audience. Think about your company's mission, as well as what types of things your customers purchase already.
You should give away part of your product or service or something related to the mission of your brand. Brand every giveaway with your company philosophy and appearance.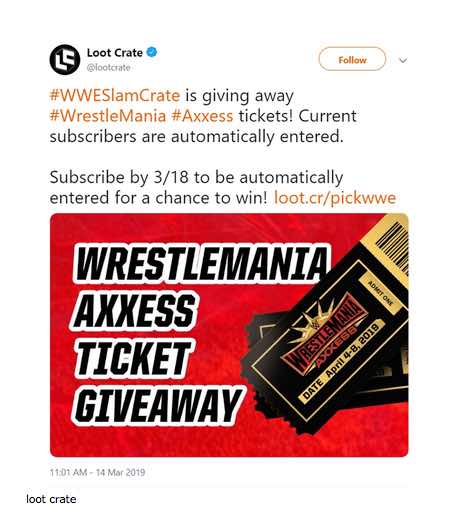 Loot Crate sells fandom subscription boxes.  Their customers are interested in specific types of events.  Loot Crate often offers event tickets as part of their giveaways and as a way of attracting new followers.  The offer of Wrestlemania tickets in the screenshot above, provides a strong incentive to participate.
Plan Your Year's Posts
It's easy to get into a rut, finding yourself repeating information over and over on social media?  You can keep your posts fresh and engaging by planning your annual marketing calendar.  
Examine each month and think about the content you'll be sharing.  Develop a theme for your posts to write your posts to answer questions your audience has about your chosen theme.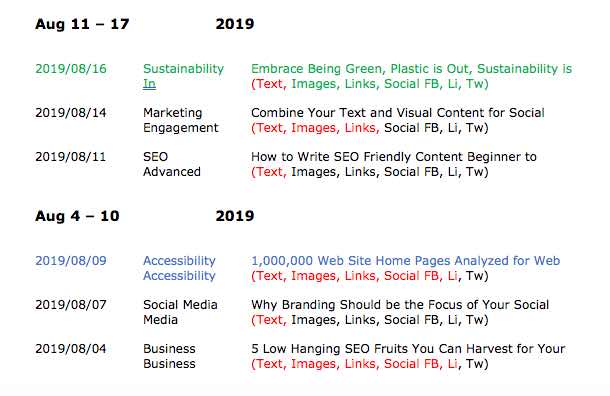 Planning your posts allows you to establish a regular schedule.  It also establishes what tasks have been completed and which you need to complete.  For example, if you plan an educational series, the articles or webinar must be ready to go well before you start promoting to your networks.
You can always shift your calendar to accommodate changes, but without a schedule, your efforts will not have the necessary focus and may mostly go to waste.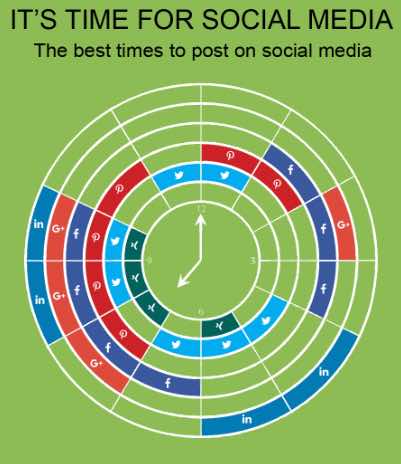 Blog2Social is the social media management tool I have chosen.  It integrates seamlessly with the DIVI theme for WordPress.  It also has features which ensure that my posts go live at the best time and day for each of the social media platforms that I use.  The above graphic shows when posts on each of the different platforms will reach their optimal audience.
Your Brand Is Everything
Your brand is your businesses introduction to the world.  Every action you take impacts your vision and how others see your company.  You need to spend your time thinking about the best ways to get your message across on social media.  
Study what your competitors are doing, and offer something different for your followers.  Planning your marketing campaigns is the key to winning new customers and creating lifelong fans.